ESPIRAL SPACES
ESPIRAL SPACES: We discover, present and manage unique and exclusive VENUES where organize all kind of events.
---
Subscribe to our Newsletter
Sponsor Us!
Do you want that your venue appear in our web?
Sugerir a un amigo
Escribe tu nombre y su email y le enviaremos tu sugerencia
Basic information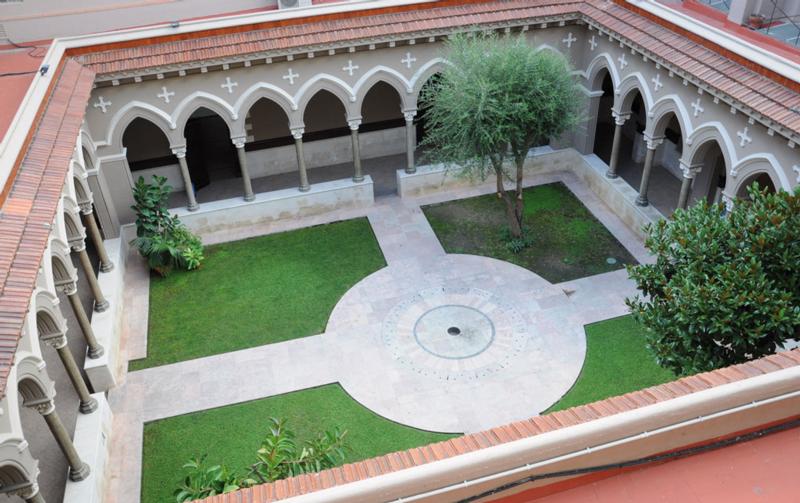 Claustro Sta. Isabel
El Claustro de Santa Isabel es un espacio exclusivo ideal para organizar todo tipo de eventos. Se terminó de construir a finales del S. XIX. Lo forman cuatro cuerpos de columnas y capiteles neogóticos. Sus placas conmemorativas recuerdan que fue el mismísimo Emperador Felipe II quien concedió al conjunto entonces situado en el barrio del Raval, el título de Real.
c/ Rocabertí, 12
Barcelona (Barcelona)
08017
Description
CLOISTER
Surrounded by neo-Gothic columns. Perfect for: outdoor concerts, cocktails, lunches, banquets, and exhibitions… Garden, office space, 6-8 parking places. Additional: microphone, hostesses, wardrobe.
CHAPTERHOUSE
Multifunctional, neo-Gothic style, with stained glass from the XIX century.Suitable for conferences,exhibitions, showrooms… Microphone,projector, piano, 15 m2 stage, heating. Additional: pianist.
CHURCH (CONCERTS)
Neo-Gothic single nave, stained glass, choir, and own elements makes it an ideal setting for concerts and choir. Audio system, lighting, 6-8 parking places.
CHAPEL (CONCERTS)
Oratory of the same classic Gothic style. Suitable for concerts. Audio system, lighting, 6-8 parking places.
AUDITORIUM
A completely modern space. Latest technology. Events, conferences, presentations, microphone, projector, audio and video system, technical staff. Additional services: hostesses, wardrobe.
Capacity
| Room Name | Banquet | Cocktail | Theatre | School |
| --- | --- | --- | --- | --- |
| Auditorio | | | 200 | |
| Salas Auxiliares | | | 40 | |
| Iglesia (conciertos) | | | 180 | |
| Capilla (conciertos) | | | 40 | |
| Sala Capitular | 40 | 80 | 60 | |
| Claustro | 180 | 250 | | |
---